HALES OWENROOTS
The Craddocks of Halesowen
The following photograph has been sent to me by Donald C Cox of Auburn California . It shows Alfred Craddock, in the early 1900's, outside his Boot and Shoe shop which was situated in the High Street. For those that know the High Street, this shop from 1920's became Peplows the Jewellers and is currently Withit Witch, a knitwear centre.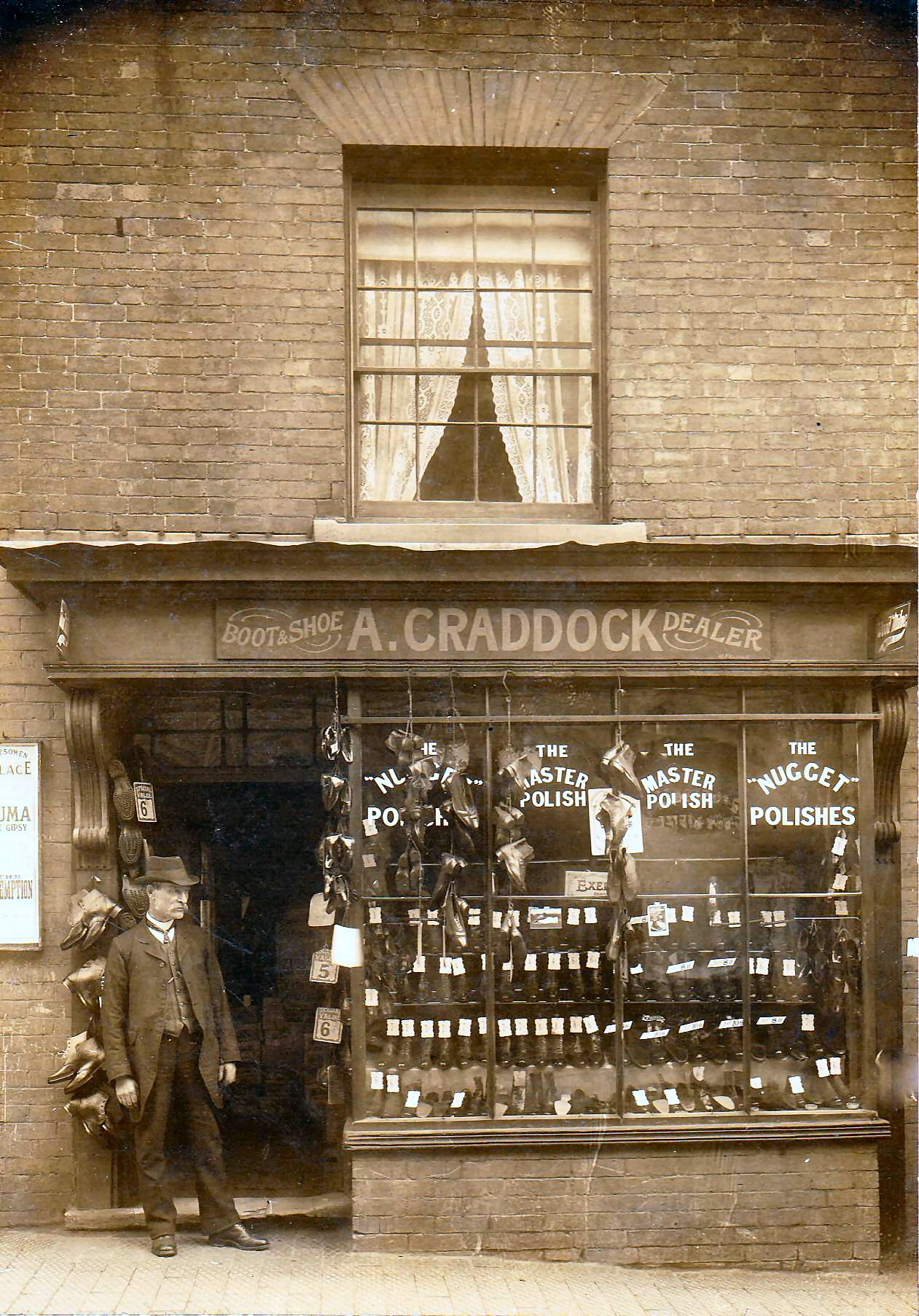 Alfred, and his brother Walter inherited, this shop from their father, Thomas Craddock in 1894.
Donald C Cox writes:
My great grandmother Honor Hackett Cox, (b. May 29, 1842 in Halesowen, d. June 6, 1921 in Sacramento) emigrated to the USA in 1867, was some how related to Alfred Craddock. For many years, she corresponded with him regularly. I am asking for your help in finding out exactly how they where related.
Here is a little family background- Honor Hackett's parents where Richard Hackett (b. in Halesowen on Apr. 14, 1816), and Jane Craddock (b. Feb. 2, 1812 in Halesowen, d. Dec. 1857 in Halesowen). Thomas Craddock (b. 1832, Chaddesley Corbett, d. Oct. 19, 1894 in Halesowen) was married to Lydia Brettell, their son was Alfred Craddock (b. abt. 1856 in Halesowen, d. June 18, 1936, Halesowen).
Thomas Craddock was living with Richard and Jane Hackett in the 1841 and 1851 Halesowen census, they must be related, but we have no idea how!
In 1841 , Thomas Craddock , 9 years old, was living with Richard and Jane Hackett and their family in Dogs Hole in Birmingham Street. Jane Hackett was Jane Craddock prior to her marriage. By the 1851 census, Richard and family had moved to nearby Brook Street. Thomas was still living with them but was classed as a lodger. His place of birth was given as Chaddesley Corbett. In subsequent census's, Thomas's birth place was given as Halesowen and Hasbury.
Looking at the available records, Jane Craddock married Richard Hackett in 1835 , while Thomas Craddock was born in 1832. It seems likely that Thomas was the son of Jane Craddock. Can anyone with knowledge of this family confirm this?
Lionel Craddock has been in contact with Halesowenroots to inform us that he is the great grandson of Thomas Craddock. Unfortunately he can't find out the relationship between Thomas Craddock and Jane Craddock Hackett either.
However, we were pleased to be able to put Lionel in contact with Don Cox in California... a family reunited!