HALES OWENROOTS
The Holloways OfHalesowen
Samuel Holloway, born 1698 at Hales Owen, married Mary in 1719. In 1720 they had a son William. He was baptized at Hales Owen Church on 31st March 1720.
On 25th March 1749, William married Elizabeth Eaton. She presented him with six sons and one daughter:
Thomas born 5th November 1749 and baptized at Halesowen on 30th January 1750;
William baptized 15th December 1751 at Halesowen;
John baptized on 24th February 1754 at Halesowen;
Samuel baptized 15th August 1756 at Halesowen;
Elizabeth baptized 3rd February 1760 at Halesowen;
Edward baptized 28th February 1763 at Halesowen;
Henry baptized 25th July 1764 at Halesowen.
Thomas Holloway married Sarah or Sally Chatwin at Hales Owen Church on 26th November 1775. They had a number of children, which included:
William baptized at St Johns Hales Owen on 9th June 1776 but who died` in infancy?
Mary baptized at St Johns Hales Owen on 23rd May 1779;
Richard baptized at St Johns Hales Owen on 31st May 1789;
Sally baptized at St Johns Hales Owen on 3rd July 1792;
William baptized at St Johns Hales Owen on 10th March 1793.
Thomas died at the age of 80 and was buried at Hales Owen on 6th March 1829.
William Holloway married Mary Hawkeswood 26th July 1772. They had seven children:
Rosanna baptized 3rd October 1773 at Hales Owen;
Nancy baptized 7th April 1776 at Hales Owen;
Joseph baptized 4th February 1781 at Hales Owen;
Henry baptized 13th October 1782 at Hales Owen;
Josiah baptized 12th June 1785 at Hales Owen;
Obedience baptized 14th June 1789 at Hales Owen;
Sarah baptized 8th September 1793 at Hales Owen.
There were a number of Hawkswoods in Hales Owen in the 1750ís, but it seems likely that Mary was the daughter of Thomas Hawkeswood and Joyce Round and was born 6th January 1751.
Josiah Holloway was buried at Hales Owen on 26th December 1826, age 41.
Obedience Holloway married Thomas Higgins at Old Swinford 26th December 1808.
John Holloway , born in Hales Owen circa 1753, married Phoebe Danford at Clent on 19th June 1781. A transcript of St Johns Parish records states that John died on February 24th 1818 at the age of 65 years. Phoebe was buried at St Johns on 10th August 1835 aged 81 years.
John and Phoebe had five children:
Phoebe baptized 12th January 1783 at Hales Owen;
William baptized 18th September 1785 at Hales Owen;
John born 11th July 1790 at Hales Owen;
Mary born 30th June 1793 at Hales Owen;
Nancy baptized 1st November 1797 at Hales Owen.
Phoebe, born circa 1783, never married and was buried at St John Hales Owen on 15th October 1828 age 44 years.
William was buried at Hales Owen on 22nd September 1821 aged 36 years.
John Holloway, the second, married Elizabeth . They had at least seven children: Elizabeth was born about 1795 in HalesOwen
Eliza born in 1818
Ann born in 1822 and baptized 21st July 1822 at Hales Owen;
Mary born in 1824 at Lutley and baptized 14th November 1824 at Hales Owen;
Jane born in 1824 at Hayley Green and baptized 13th April 1828 at Hales Owen;
Phoebe born in 1831 at Hayley Green and baptized 13th March 1831 at Hales Owen
Hannah born in 1832 at Lutley and baptized 23rd September at Hales Owen;
The 1841 census records John aged 50 and Elizabeth aged 45 living near the Quarry with Eliza aged 22 , Ann aged 19, Phoebe aged 11, Hannah aged 9 and Elizabeth aged 1 month.
In the 1851 census John Holloway, a nailer, aged 60, was living at Hayley Green with his unmarried daughters Phoebe, age 20 and Hannah, age 18.
Living next door with the Webb family was the widow Elizabeth Holloway, age 76, a pauper and former nailer, born at Lutley, an unmarried nailer named Hannah Holloway, age 28 born at Chaddesley Corbett and a James Holloway, age 4, described as a lodger, who was born at Lutley. No connection has yet been made.
Mary Holloway (mispelt Howley )was living at the house of James Male in 1851 employed as his servant.
John Holloway died and was buried in St John's Churchyard on April !st 1855 aged 64. However, Phoebe, Hannah and Mary were living in three adjacent houses in Hagley Road in the 1861 census.
At 37 Hagley Road, Mary, age 35, lived with her husband James Male, age 36. At number 39 lived unmarried Hannah, age 29, with her three children, John Edwin, age 7, Eliza, age 4, and James age 1. In between at number 38 Hagley Road lived Phoebe, age 30.
Jane Holloway, born 1824 married Thomas Macklin at Halesowen on 16th July 1849. Thomas originated in Brimfield, Herefordshire and was the son of Nathanial Macklin, a farmer. In 1851 he was at Gaunts Fold with Jane aged 23 years; Sarah his daughter, a nursemaid born in Hereford, sons Thomas and William aged 7 and 5 respectively both born in Worcs and baby Mary 4 months born in Halesowen. Thomas was a labourer and in 1851 was 34 years old. A further child, Emma was christened at Halesowen on 9th March 1853 but who died on 4th March 1855.
Thomas Macklin was previously married to Sarah Yarrangton. They had married at Rockford 6th April 1839. Sarah was christened 29 June 1817 at Laysters Herefordshire the daughter of John and Sarah Yarrangton.
The 1881 census shows that Hannah, daughter of John, aged 48 and a nailer, was living at Lower Hasbury with her unmarried daughter Eliza, age 24 and a nail maker and grandson (Elizaís son) Abel age 1.
Hannahís two sons John, a carter aged 27 and James, a nail maker, aged 21, were living with James Male and Mary Male in Lower Hasbury. James Male, age 56, was a chain maker born in Brierley Hill. Mary, Hannahís sister, is described as a nail maker out of employment age 55. Also living with the Males was Harry Holloway, age 6, another of Elizaís children.
Eliza Holloway had the following children:
Abel Holloway, b. 15 February 1880, Hagley Road, Hasbury; d. Unknown.
Harry Holloway, born 1875 Halesowen.
The 1912 Kelly directory records Harry living at 19 Hagley Street and working as a confectioner . http://www.halesowenroots.com/kellys6.gif
19 Hagley Street was the address of the Chocolate Box cafe. Colin Holloway recalls his father, Charles Clifford , telling him that as a boy he used to help his uncle Harry make ice cream there.
Harry and his wife Amy had five children, Arthur, Fred, Annie, Ernest Harry and Harry junior
The 1901 Census records Harry, Amy, Annie and Ernest living at Stourbridge Road , Halesowen
Fred married Doris Clay and he went to live in Australia in 1948.
Doris and their two sons John and David joined him in Canberra in 1949.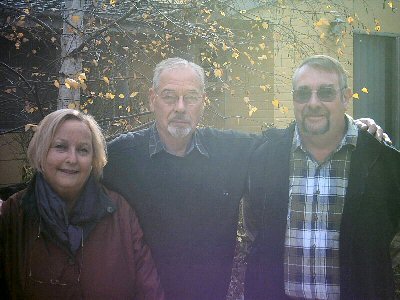 John and David Holloway and John's wife Ailsa in Canberra in 2005
Ernest Harry Holloway was born 25/2/1901 in Halesowen. In 1929 he married Margaret Emma Wyles, born. 30/6/1903, the daughter of Alfred and Margaret (Peggy) Wyles of Oak St Kingswinford . They had one son Ernest ROY, born at 16 Gannow Rd, Rubery on 6/2/1931. Ernest spent most of his working life at the Austin Motor Co at Longbridge. They moved back to 26 Oak St Kingswinford during the1930's and he died there on the 19/10/1969.
Roy started work at Longbridge in 1947 as an apprentice die sinker. He was a Toolroom supervisor from about 1966 until he took early retirement in 1988 after 41 years service.
On 16/6/1956 Roy married Brenda Westwood D.O.B 17/9/1933, daughter of Joseph and Florence Westwood of 9 Ketley Rd Kingswinford at St Mary's Kingswinford. They had one son, Stephen NEIL, born at 92 Water St Kingswinford on 25/12/1960.
Neil kept the family tradition going and started work at Longbridge as an apprentice in 1977 and worked in various maintenance areas until the company closed in 2005.
On29/6/1985 Neil married Stephanie Sumner D.O.B.16/11/1961, daughter of David and Eve Sumner of Mounts Way Nechells Birmingham at St Mary's Kingswinford. (This information was submitted by Neil Holloway)
Arthur Holloway owned a garage in Hasbury, HalesOwen and was also a driving instructor. He married Sarah Elsie Brown 'from the bottom of the Furnace' . They had two sons, Norman and Stanley.
Arthur Holloway's Garage
Norman was a lecturer in engineering drawing at Halesowen Technical School in the 1960's. He married Ruby Lee of Hasbury and they had two children, Martyn and Susan Jayne.
Stanley, was a builder, and married Gladys Inkinson and they also had two children, Mark and Nicola.
In September 2005, Nerida , the daughter of David Holloway, above, visited Halesowen to rediscover her Halesowen Roots.
Nerida in Halesowen Churchyard
Ethel Holloway , b. 1883, Halesowen, Worcestershire; m. ? Godfrey1.
They had no children. They lived in Lodgefield Road, Halesowen
Alice Holloway b. 1891, Halesowen, Worcestershire
Abel Holloway married Elizabeth Southall, born 1882, on October 29th 1900 at St Johns Halesowen. The witnesses were William Southall and Ethel Holloway.
Abelís fathers name is given as Benjamin Holloway (deceased), occupation nail maker. Abelís address is given as Chapel Street while Elizabeth lived at Gaunts Yard.
Abel Holloway Abel Holloway extreme right at June
Holloways marriage to John Hawkins.
Fifth from the left is Norman Holloway ***
Children of Abel and Elizabeth Holloway:
Percy Holloway
Ivy Holloway
Charles Clifford Holloway, b. 27 July 1910, Halesowen.
Reginald Holloway .
Arthur Holloway
Harry Cyril Holloway b 19 January 1901 Chapel Street, Hasbury, Halesowen
d.4 March 1980 61 Instone Road Halesowen
William James Holloway b. 19 January 1903, Chapel Street, Halesowen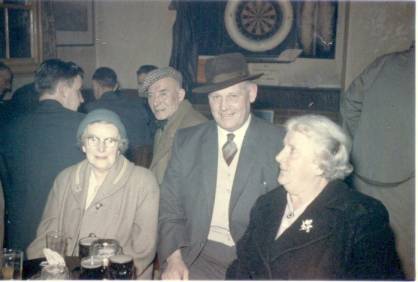 Charles Clifford Holloway with his aunts Alice and Ethel
Harry Holloway; famous local athlete, ***

Alice Holloway born in Halesowen in 1891, married Archibald Ingram, the son of Thomas Ingram and Phoebe nee Clay. Archibald Ingram was born on 26 August 1887

Alice and Archibald had the following children:

Dolly Ingram

Ethel Ingram

Arthur Ingram.

Percy Holloway married Dolly Workman.

They had the following children;

Michael

Cyril

Ronnie

Ivy Holloway had the following children;

Rita

Jean Valerie

Jean was raised by Alice and Archibald Ingram as their daughter . Only the close family knew she was not their real daughter. She was known as Jean Ingram.

Rita Holloway married David Humphreys and they went to live in Brisbane.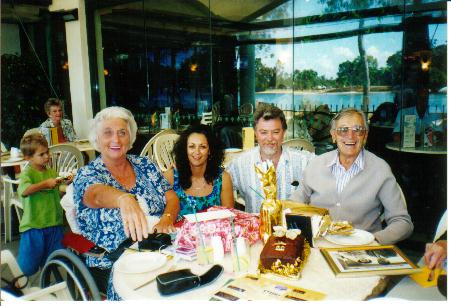 Rita and David Humphreys ( extreme left and right of picture)
celebrate their 50th Wedding anniversary in Brisbane ***
David Humphreys passed away on August 12th 2005
Charles Clifford Holloway married Sarah Roberts, the daughter of William and Ellen Roberts
Their children were;
Mervyn Holloway b 8 September 1934
Colin Holloway b 3 May 1936
Dianne Holloway b 26 November 1946; d 17th November 2010
Marilyn Holloway b 11 November 1949
; d September 2003
Pauline Holloway b 3 February 1952.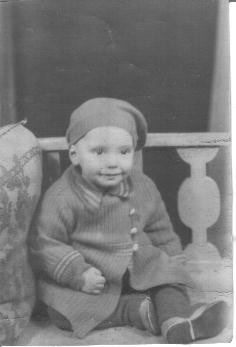 A very young Mervyn Holloway ***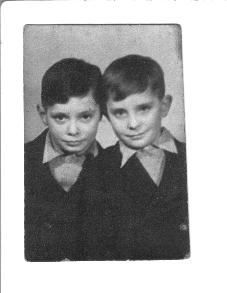 Mervyn and Colin Holloway. ***
Sue Potter, David Holloway and Martyn Holloway provided some of the additional information in this article
*** denotes Photograph supplied by David Holloway
Reginald Holloway married Matilda Penn from Quarry Bank.
Their children were:-
Iris
Reginald Ivan born 25 March 1937 died 27 April 2006